What are experts saying about today's mortgage rates?
Why Homeownership Is Still The American Dream
Buying Your Home in 2022?
Any major purchase requires research, careful analysis, consideration, and thought. Home buying isn't any different! Determining the right location, the number of bedrooms or bathrooms needed, and outdoor space is the easier things. However, there are many other factors to think about in your home search. From your initial search to the moment you get the keys to your new home, I will be there, guiding you through the process. I can even help connect you with mortgage professionals to get the best rates.
As an area expert, I can help educate you on the different neighborhoods, schools, and other local community amenities that suit your lifestyle.

The process of buying a home can be overwhelming at times, but you don't need to go through it alone.
You may be wondering if now is a good time to buy a home ... or if interest rates are projected to rise or fall. I put together a free eGuide for you that will answer many of your questions and likely bring up a few things you haven't even thought about yet. Just click the button below to read it now!

The process of buying a home can be overwhelming at times, but you don't need to go through it alone.
You may be wondering if now is a good time to buy a home… or if you should continue renting. I put together a free eGuide for you that will answer many of your questions and likely bring up a few things you haven't even thought about yet. Just click the button below to read it now!
How Misunderstandings about Affordability Could Cost You
There's a lot of discussion about affordability as home prices continue to appreciate rapidly. Even though the most recent index on affordability from the National Association of Realtors (NAR) shows homes are more affordable today than the historical average, some still have concerns about whether or not it's truly affordable to buy a home right now.
When addressing this topic, there are various measures of affordability to consider. However, very few of the indexes compare the affordability of owning a home to renting one. In a paper just published by the Urban Institute, Homeownership Is Affordable Housing, author Mike Loftin examines whether it's more affordable to buy or rent. Here are some of the highlights included.
1. Renters pay a higher percentage of their income toward their rental payment than homeowners pay toward their mortgage.
The report explains:
"When we look at the median housing expense ratio of all households, the typical homeowner household spends 16 percent of its income on housing while the typical renter household spends 26 percent. This is true, you might say, because people who own their own home must make more money than people who rent. But if we control for income, it is still more affordable to own a home than to rent housing, on average."
Here's the data from the report shown in a graph:
2. Renters don't have extra money to invest in other assets.
The report goes on to say:
"Buying a home is not a decision between investing in real estate versus investing in stocks, as financial advisers often claim. Instead, the home buying investment simply converts some portion of an existing expense (renting) into an investment in real estate."
It explains that you still have a housing expense (rent payments) even if you don't buy a home. You can't live in your 401K, but you can transfer housing expenses to your real estate investment. A mortgage payment is forced savings; it goes toward building equity you will likely get back when you sell your home. There's no return on your rent payments.
3. Your mortgage payment remains relatively the same over time. Your rent keeps going up
The report also notes:
"Whereas renters are continuously vulnerable to cost increases, rising home prices do not affect homeowners. Nobody rebuys the same home every year. For the homeowner with a fixed-rate mortgage, monthly payments increase only if property taxes and property insurance costs increase. The principal and interest portion of the payment, the largest portion, is fixed. Meanwhile, the renter's entire payment is subject to inflation.
Consequently, over time, the homeowner's and renter's differing trajectories produce starkly different economic outcomes. Homeownership's major affordability benefit is that it stabilizes what is likely the homeowner's biggest monthly expense, assuming a buyer has a fixed-rate mortgage, which most American homeowners do. The only portion of the homeowner's housing expenses that can increase is taxes and insurance. The principal and interest portion stays the same for 30 years."
A mortgage payment remains about the same over the 30 years of the mortgage. Here's what rents have done over the last 30 years:
4. If you want to own a home and can afford it, waiting could cost you.
As the report also indicates:
"We need to stop seeing housing as a reward for financial success and instead see it as a critical tool that can facilitate financial success. Affordable homeownership is not the capstone of economic well-being; it is the cornerstone."
Homeownership is the first rung on the ladder of financial success for most households, as their home is most often their largest asset.
Bottom Line
If the current headlines reporting a supposed drop-off in home affordability are making you nervous, let's connect to go over the real insights into our area.
Buying a Home Is Still Affordable
The last year has put emphasis on the importance of one's home. As a result, some renters are making the jump into homeownership while some homeowners are re-evaluating their current house and considering a move to one that better fits their current lifestyle. Understanding how housing affordability works and the main market factors that impact it may help those who are ready to buy a home narrow down the optimal window of time in which to make a purchase.
There are three main factors that go into determining how affordable homes are for buyers:
Mortgage Rates
Mortgage Payments as a Percentage of Income
Home Prices
The National Association of Realtors (NAR) produces a Housing Affordability Index. It takes these three factors into account and determines an overall affordability score for housing. According to NAR, the index:
"…measures whether or not a typical family earns enough income to qualify for a mortgage loan on a typical home at the national and regional levels based on the most recent price and income data."
Their methodology states:
"To interpret the indices, a value of 100 means that a family with the median income has exactly enough income to qualify for a mortgage on a median-priced home. An index above 100 signifies that family earning the median income has more than enough income to qualify for a mortgage loan on a median-priced home, assuming a 20 percent down payment."
So, the higher the index, the more affordable it is to purchase a home. Here's a graph of the index going back to 1990:
The blue bar represents today's affordability. We can see that homes are more affordable now than they've been at any point since the housing crash when distressed properties (foreclosures and short sales) dominated the market. Those properties were sold at large discounts not seen before in the housing market for almost one hundred years.
Why are homes so affordable today?
Although there are three factors that drive the overall equation, the one that's playing the largest part in today's homebuying affordability is historically low mortgage rates. Based on this primary factor, we can see that it's more affordable to buy a home today than at any time in the last eight years.
If you're considering purchasing your first home or moving up to the one you've always hoped for, it's important to understand how affordability plays into the overall cost of your home. With that in mind, buying while mortgage rates are as low as they are now may save you quite a bit of money over the life of your home loan.
Bottom Line
If you feel ready to buy, purchasing a home this summer may save you a significant amount of money over time based on historical affordability trends. Let's connect today to determine if now is the right time for you to make your move.
Three Reasons to Buy a Home in 2021 (video)
Understanding The Home Buying Process (video)
Why Work With A Certified Residential Specialist When Buying Your Home (video)
The Do's and Don'ts after Applying for a Mortgage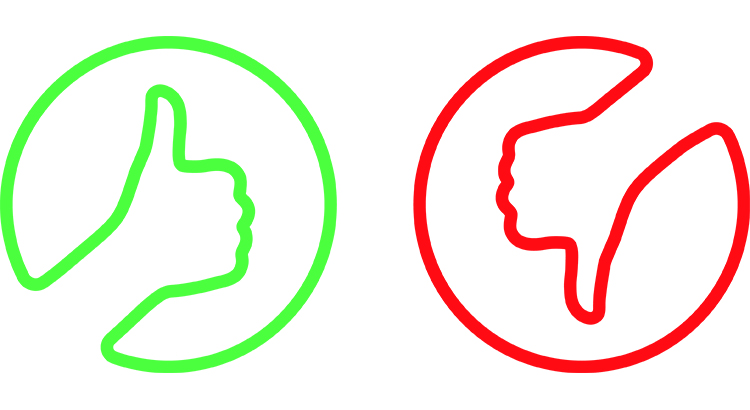 Once you've found the right home and applied for a mortgage, there are some key things to keep in mind before you close. You're undoubtedly excited about the opportunity to decorate your new place, but before you make any large purchases, move your money around, or make any major life changes, consult your lender – someone who is qualified to tell you how your financial decisions may impact your home loan.
Below is a list of things you shouldn't do after applying for a mortgage. They're all important to know – or simply just good reminders – for the process.
1. Don't Deposit Cash into Your Bank Accounts Before Speaking with Your Bank or Lender. Lenders need to source your money, and cash is not easily traceable. Before you deposit any amount of cash into your accounts, discuss the proper way to document your transactions with your loan officer.
2. Don't Make Any Large Purchases Like a New Car or Furniture for Your New Home. New debt comes with new monthly obligations. New obligations create new qualifications. People with new debt have higher debt-to-income ratios. Higher ratios make for riskier loans, and then sometimes qualified borrowers no longer qualify.
3. Don't Co-Sign Other Loans for Anyone. When you co-sign, you're obligated. With that obligation comes higher ratios as well. Even if you promise you won't be the one making the payments, your lender will have to count the payments against you.
4. Don't Change Bank Accounts. Remember, lenders need to source and track your assets. That task is significantly easier when there's consistency among your accounts. Before you transfer any money, speak with your loan officer.
5. Don't Apply for New Credit. It doesn't matter whether it's a new credit card or a new car. When you have your credit report run by organizations in multiple financial channels (mortgage, credit card, auto, etc.), your FICO® score will be impacted. Lower credit scores can determine your interest rate and maybe even your eligibility for approval.
6. Don't Close Any Credit Accounts. Many buyers believe having less available credit makes them less risky and more likely to be approved. Wrong. A major component of your score is your length and depth of credit history (as opposed to just your payment history) and your total usage of credit as a percentage of available credit. Closing accounts has a negative impact on both of those determinants of your score.
Bottom Line
Any blip in income, assets, or credit should be reviewed and executed in a way that ensures your home loan can still be approved. If your job or employment status has changed recently, share that with your lender as well. The best plan is to fully disclose and discuss your intentions with your loan officer before you do anything financial in nature.

Home Buying Can Be Easy
As your buying agent, I can help streamline the process of buying a home and make it easier for you. I've aligned myself with the top professionals in the industry, and once an offer has been accepted, I will personally help facilitate the process to close on the home. By working closely with mortgage brokers, title and escrow companies, home inspectors, and home warranty companies I will provide you with the best service possible!
Why Pre-Approval Is Key in 2021 (video)
Today's housing market is highly competitive for homebuyers, so it's critical to gain every advantage in the process that you can. Let's connect to make sure pre-approval is one of the first steps you take toward homeownership this year.
Curious about what's happening in your neighborhood? You can create a custom market report to see what's active, under contract, and sold in your neighborhood!
Considering selling or refinancing your home? Get an INSTANT property valuation now!
Contact us today to find out how we can be of assistance to you!